Wheel Creator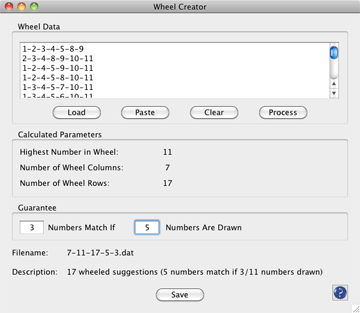 Overview
This is used to create your own wheel.
How to Invoke
Use the menu item

"Utilities > Wheels > Wheel Creator"

.
Basic Procedure
Enter, Load or paste the wheel data in the

"Wheel Data"

text box
Click the

"Process"

button to determine the

"Calculated Parameters"

Enter the guarantee values in the

"Guarantee"

section
Click the

"Save"

button to save the wheel
Notes
It is imperative that you adhere to certain rules if you want to modify a wheel, otherwise the adage 'Garbage in, garbage out' will apply:
Data entered must be two digit numbers, from 1 to 99. Numbers less than ten must be preceded by a zero (so '8' becomes '08'.
Wheel numbers must be consecutive; if it is 12 number wheel, the wheel must contain entries between '01' and '12', inclusive.
Numbers must be separated by a dash ('-').