Get Subscription ID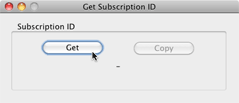 Overview
If you are a subscriber to the optional Lottery Data Service, this function lets you retrieved the Subscription ID that is tied to your installation of Lotto Sorcerer.
Please note that this will not work if Lotto Sorcerer version 9 is using the subscription for your Lotto Sorcerer version 8 installation.

How to Invoke
Use the menu item "Lottery Data > Lottery Data Subscription > Get Subscription ID...".
Basic Procedure
Window Controls
"Get"

button

Click this button to retrieve the Subscription ID.
"Copy"

button If the Subscription ID is found, you can copy it to the System Clipboard by clicking this button.