Show Virtual Lottery Siblings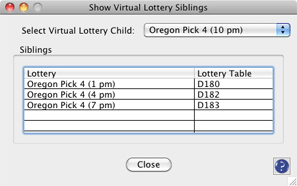 Overview
This shows all siblings of a virtual lottery child.
How to Invoke
Use the menu item "Lottery Structure > Virtual Lotteries > Virtual Lottery Utilities > Show Virtual Lottery Siblings...".
Basic Procedure
Select the virtual lottery child from the dropdown menu.
Sibling lotteries are shown in the Members box.
Window Controls
"Select Virtual Lottery Child"

dropdown menu

Use this dropdown to select the virtual lottery child whose siblings you wish to see.
"Sibling"

list This list shows the siblings of the virtual lottery child that you selected. If no children are shown, then that would be an error condition, because a virtual lottery (

"parent"

) must consist of at least two lotteries (

"children"

) . In that case, you should delete the parent virtual lottery.
"Close"

button Use this to close the current window.