Lottery Setup Wizard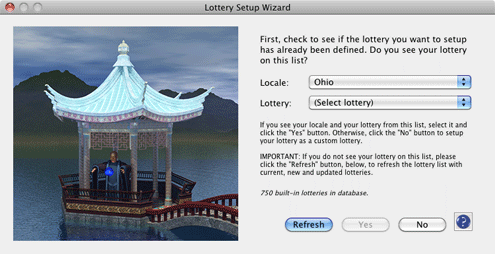 Overview
This is used to setup a lottery in Lotto Sorcerer. Lotto Sorcerer comes with 500+ preset lotteries. If you can find the lottery you want to setup, and the settings are current and accurate, you can quickly set it up with only two mouse clicks. You can also override the settings if your lottery has changed. Or you can setup a new lottery which isn't on the list.
How to Invoke
Use the menu item

"Lottery Structure > Lottery Setup Wizard"

.
Basic Procedure
Find the lottery you want to setup from the dropdown menu, or.
Create your own lottery. You will be taken through several pages, asking you questions about your lottery.
Click the

"Finish"

button to create the lottery.
Note: On the Summary page of this window, you will be shown the settings of the lottery you are setting up. Carefully review these settings, even if you set this lottery up as a preset, since the lottery could have made changes to the lottery's parameters. If any changes need to be made, just keep hitting the

"Back"

button until you have reached the page where the settings need to be changed.

If you can find your lottery in dropdown menu on the first page, it is strongly recommended that you use the

"built-in"

lottery. Only built-in lotteries are eligible for online updating. Please note that you are limited to 64 built-in lotteries at any one time.

The

"Refresh"

button will go online and automatically download any new or updated lottery setup settings that have been added or changed since the latest release of Lotto Sorcerer.